Our Legal Status
We are a st
atutory Trust and a registered ch
arity, based in Greytown, Wairarapa, New Zealand.
The purposes of the Trust are set out in our very own piece of Government legislation, the Greytown District Trust Lands Act 1979 (as amended) which, along with its predecessors dating back to 1871, has governed and influenced everything we do.
As a registered charity, because all the profits we make are put to charitable use, we benefit from not having to pay income tax on our earnings.
Our Governing Body
The Board consists of six individuals selected as Trustees by local residents.  The process of selection takes place every three years by means of a poll of registered voters in the Greytown District electorate, held concurrently with local government elections.  While Trustees are all elected for a term of six years, the commencement dates of our terms are staggered so that at each election only three positions on the Board at a time become vacant.  This helps ensure there is a degree of continuity of governance from one election to the next.
The Chairperson and Deputy Chairperson are appointed from among and by the Trustees.  They put themselves forward for re-appointment every 12 months on the anniversary of the Trustee election.
 As at September 2021 the Trustees are: 
Phil Holden – elected October 2019.  Phil and his family have been living in Greytown for the last 5 years, attracted by the strong community values and vibrancy of the region. Phil is an experienced business professional with Chief Executive leadership experience over 17 years with organisations including Coffee Connection, The Lion Foundation, New Zealand Rugby League, Greyhound Racing New Zealand and Breadcraft.  Phil is also a member of the Institute of Directors.
Phil was re-appointed by Trustees as Chairperson at the September 2021 Board meeting.
Catherine Rossiter-Stead – first elected in October 2016 Catherine is a relative newcomer to Greytown from the United Kingdom, Catherine, serves on the Boards of a number of Wellington and Wairarapa based organisations and has a background in marketing and communications.
Catherine was re-appointed by Trustees as Deputy Chairperson at the September 2021 Board meeting.
Stephen "Sid" Kempton – first elected in October 2016 Sid is descended from one of the first families to settle in Greytown before the Trust was even formed and returned to the town in 2008 following an eight year stint living and working in Australia and the UK.  He has a background in property valuation, banking and finance and is currently a Rural Credit Manager with ASB.
Sid held the position of Chairperson from October 2017 until September 2020 when he elected not to stand again.
Wayne Regnault – first elected in October 2013 Wayne is Greytown born and bred and follows in the footsteps of his father, Doug, who retired as a Trustee in 2001.  Wayne has a background in building construction and project management.  Wayne was re-elected on to the Board in October 2019.
Wayne held the position of Deputy Chairperson from October 2017 until September 2020 when he elected not to stand again. 
 Derek Wilson – first elected in June 1979 Derek is the longest current serving Trustee and has seen significant change in the Trust during his 40 year tenure, many years of which were as Chairman.  He is a long-time Greytown resident and has a background in construction, having at one stage owned the only joinery factory in Greytown.
Matt Bell – first elected in 2019, Matt has lived in the Wairarapa for 17 years of which 12 years have been in Greytown. Matt has qualifications and experience in Town Planning and Property Management; and has had a 25 year career in property management and development in nationwide companies, and currently works for PGG Wrightson in their Corporate Property team as a national Property Manager based out of their Masterton regional office.
Management
Trust Manager – Helga Perry  (up to 35 hours per week)
Helga started with the Trust in July 2013 as the Trust's Administrator working part time.
In July 2021 Helga took on the role of Trust Manager and has the responsibility for keeping the Trust's operation running as smoothly and efficiently as possible.
Property Advisor – Paul Broughton (part time)
Paul brings an extensive background in commercial property to the Trust where amongst other roles has been the Portfolio Property Manager at Prime Property Group, Property Advisor – MPI and Asset Manager at Precinct Property (formerly AMP Office Trust).  From 2014, Paul stepped out of property and into business for himself where he is the Founder/ Director – C'est Cheese & Deli, Featherston. With his business performing strongly, Paul has accepted the opportunity to provide some expertise to the Trust on a part time basis.
Helga and Paul are ably supported by service providers contracted to the Trust, among them being: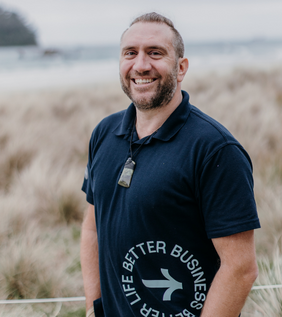 Callum Mitchell of Rightway Ltd, who supply accounting services and advice.
Jake Olsen of Craigs Investment Partners.
Jake is based in Auckland and looks after the Trust's managed funds portfolio.
Gwendoline Gallaghan of Colliers who supply valuation and property related services and advice for the Trust's Greytown properties.

Garry Dowse of TelferYoung Manawatu who supply valuation and property related services and advice for the Trust's out of town property located in Whanganui.